Print Dialog
The Print Dialog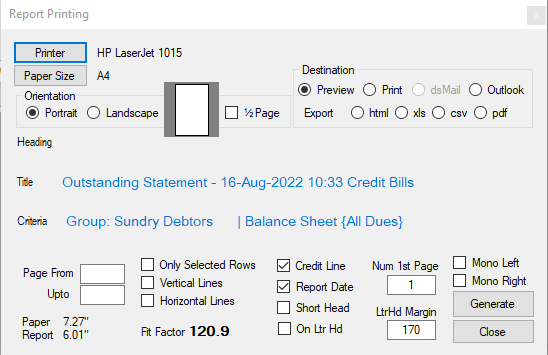 Print Destinations​
Select the output destination for the Reports to be generated.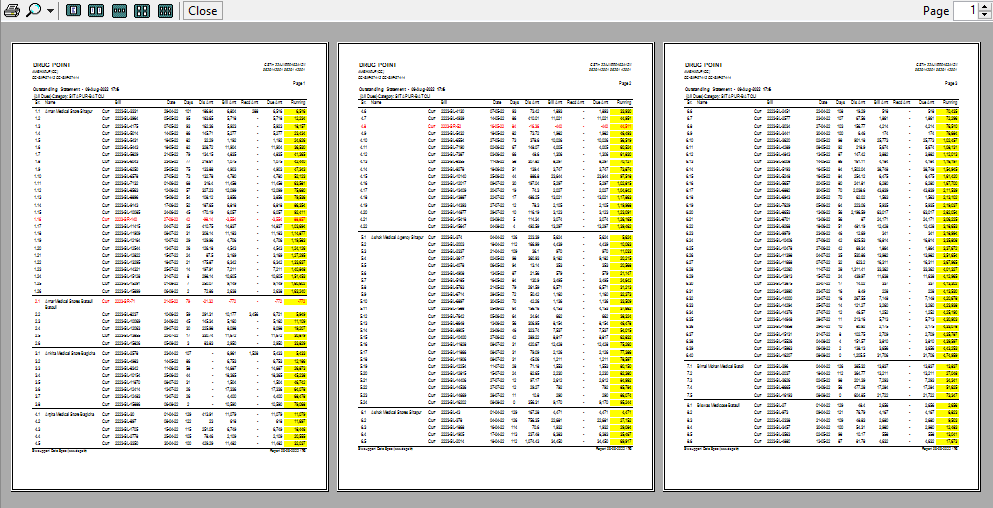 | Destination | Description |
| --- | --- |
| Preview | See preview on screen of the output. This allows the user to confirm the output on screen before printing it. |
| Print | Printed to the printer |
| PDF File | Printed in the form of a PDF file. By default the PDF files are generated on the DESKTOP. You must remove these from there to avoid over-crowding. |
Sent as Email​
| Destination | Description |
| --- | --- |
| dsMail | Send Mail (using dsGST's own smtp client). The dsGST's smtp client can be used after completing the mail settings |
| Outlook | Send Mail (using Outlook) |
Export to other file-formats​
HTML File
Excel File
CSV File
PDF File
Printing​
Printer and Paper Size​
Select printer and paper size. The default printer and its default paper size is pre-selected when you select printing.
Paper Orientation​
dsGST even supports ½ page printing.
Selected Printing​
Page Range​
| State | Description |
| --- | --- |
| A number in From | Start printing from this page number |
| Blank in From | From beginning |
| A number in Upto | Print up to this page number |
| Blank in Upto | Up to the end |
Only Selected Rows​
Check in this box, to print only the rows selected in the data table.
Other Options​
Option
Description
Vertical Lines and Horizontal Lines
Check in this box will make the program print vertical and horizontal lines on the paper between the rows and columns.
Num 1st Page
Num 1st Page (Number of First Page) is the Page number that will shown on the first printed page and sequentially increment from there for subsequent pages.
Credit Line
Prints the credit line for this software in the footer.
Report Date
Prints the date and time of printing the report in the footer.
Short Head
Print a Short Page Header or the Full Page Header.

Short Header

Normal Header
On Ltr Hd and LtrHd Margin
Check this if you are On Ltr Hd (On Letter Head). The LtrHd Margin (Letter Head Margin) decides how much space is to be left on the top.