User Master
Users or operators of dsGST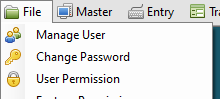 Manage User to Add and Edit Users
Change Password where users can change their own passwords
User Permission to specify feature wise permissions
Create and Maintain​
Admin Role Required
This option is available only to users who have the Admin role assigned to them.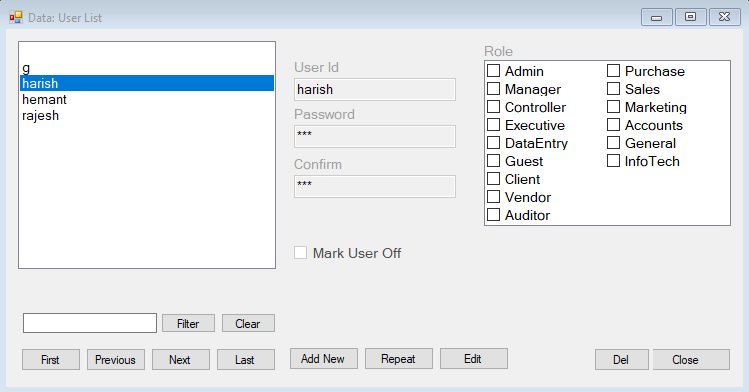 User Entry for is based on the Date Entry Interface.
To add user​
Click Add New.
Fill in the UserId and Password.
Check the Roles for the user - multiple roles are permitted, and
Click Save complete.
Password is not displayed, so you are requested to fill the password once again in the confirm box so that you may be certain of what it.
To edit user​
Select user to edit from the selector panel.
Click Edit.
Change the data as required, and
Click Save complete.
You may use the Mark User Off checkbox to temporarily disable or re-enable the user.
If a user forgets his/her password, the Admin user may assign a new password here.
Set User Permissions​
A user can operate based on the permissions provided to him for each feature. Permission to make entries, update entries and view entries may be specified for each user and each feature.
Click here to see how these user permissions are set.